It's been a strange few days at the Australian Open for men's tennis. We have seen strong signs that the next generation of players is ready to take the mantle of the old. Grigor Dimitrov may finally have come of age, Thiem looks the favorite to advance past Goffin to the Quarter Finals, and 19 year old Alexander Zverev pushed a resurgent Nadal to five sets. And then there's the other Zverev. Not 19 year old Alexander Zverev, but 29 year old big brother Mischa Zverev. In a result perhaps just as shocking as Istomin's upset of Djokovic, Mischa Zverev took down Andy Murray in four fantastically entertaining sets of attacking, serve & volley tennis. So how does a 29 year old journeyman with an almost 8 year-old career high ranking of 45 (back in 2009) come from relative obscurity to notch such an impressive win over the world's #1 player?
It isn't as though the Zverev name is unknown in the tennis world. Alexander Zverev Jr. has long been a name on everyone's lips as one the up-and-coming players to take over from the "Big Four" in coming years. And certainly every indication is that Alexander will do so, having already reached as high as #20 at a mere 19 years of age. The family has a tennis pedigree however – Alexander Zverev Sr. played professional tennis and although he never had much success his experience on the tour has to have been invaluable in guiding his two sons in their careers. After turning pro in 2006, Mischa had a fairly rapid rise to his peak in 2009. Early on he had wins over Juan Carlos Ferrero and Tommy Robredo, but after peaking in 2009 with a quarter-final appearance at the Italian Open his career stalled. He ended up playing Futures and Challenger for a full four years between 2012 and 2015 before finally earning his way back to ATP events.
The Matchup
On paper this was a terrible matchup for Mischa. Zverev plays a very attacking game, primarily serve & volleying on his own serve, and coming forward at every decent opportunity in baseline rallies. This is not a player who has a crisis of identity – he knows his strengths and he plays to them.
However in Murray Mischa was facing one of the games best returners, as well as one of the games greatest counter-punchers. Murray would be odds-on favorite to win every lengthy baseline exchange, and is more than capable on both the pass and the lob.
Mischa's game plan was simply from the get-go: to get to the net. His goal would be to avoid extended baseline exchanges with the Scott, and in doing so perhaps deny Murray any rhythm from the back.
Used The Slice Backhand
One of the key tools Mischa Zverez used to defeat Murray was the slice backhand. Much in the same way we've seen Grigor Dimitrov using his slice backhand in his recent resurgence, Zverev uses his slice in two key ways. The first is to neutralize Murray's advantage off the ground. By keeping his slice deep and/or low, Zverev denies Murray the chance to step in and take the ball early and dictate play with his superior forehand and backhand.
This kept Zverev in points, extending his opportunities to create the dynamic he really wants out of the return points – chances to get into the net and force Murray to pass or lob. By floating the slice deep, Zverev gave himself time to recover into good position between Murray's strokes. If this was a pure slugging match, Murray would win without question. This is not to say that Zverev's groundstrokes are bad per se. While unorthodox, his forehand is very difficult to read due to the very short backswing, which gives him some advantages. His backhand is pretty flat and hard, and is designed for getting him forward into the net.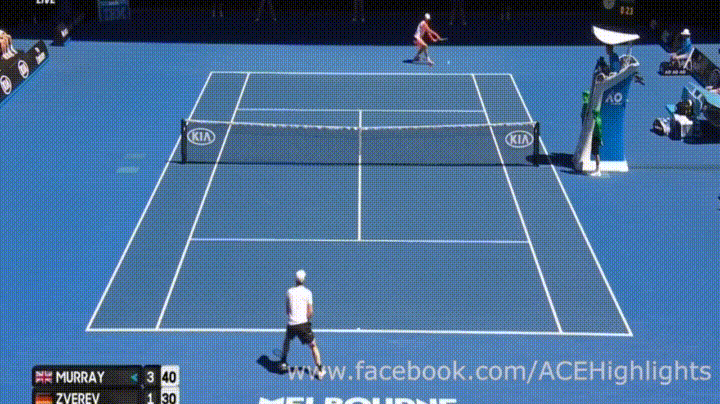 The second use of the slice is more offensive. In the point above Zverev uses his slice backhand to draw a shorter reply from Murray, which Mischa then comes forward on. By changing the rhythm and, just as important, the depth of the shot he can force players to hit outside their comfort zone. Murray is normally a very astute player on the slice backhand, but here you can see what Mischa draws with his change-up.
2. Made the Pass
The second key aspect of the match was Mischa coming up with the pass when he absolutely needed to. He was down a break twice in the first set, and when Murray was serving at 5-3, Mischa came up with several big plays, the first of which was this:
This was critical as Murray had many opportunities to come forward during the match. Murray was into the net 44 times during the match – that's 11 times per set. To put it in perspective, in the 9 sets Murray played at the Aussie Open headed into this match he came in just 49 times – that's just a little over 5 times a set. There is some question whether this was planned on Zverev's part – to lure Murray forward on short, low returns and then pass him, thereby avoiding more of the grueling baseline rallies Murray is like to control. Many of these approaches came on the ball immediately following the serve, and it may just be that Mischa is not a particularly good returner of the first serve, but given Murray's win % on first serves wasn't great this goes under the "strategy" category for now. Regardless of if intentional, it was a pattern we saw play out time and time again.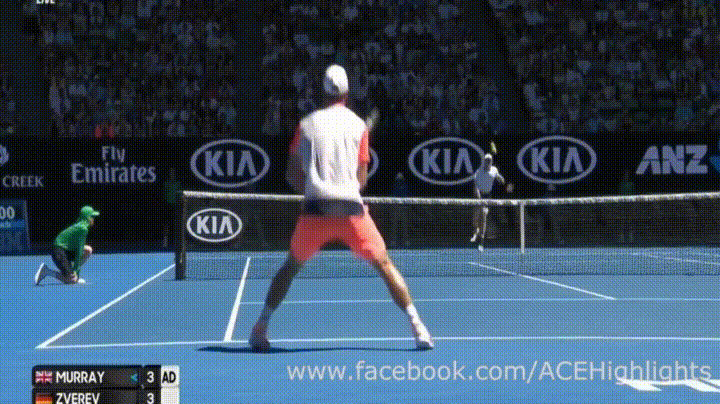 3. Attacked The Second Serve
Andy Murray won only 36% of his second serve points in the match. In 2016, he was 53.7% on second serve points. To call that drop both huge and pivotal might not be an understatement, but it isn't far from one. Murray's second serve is not particularly good for his height, but we have seen improvements on it in recent years. Zverev showed no fear, stepping up and taking the ball well inside the baseline time and time again. On several key points he came into the net directly behind his return: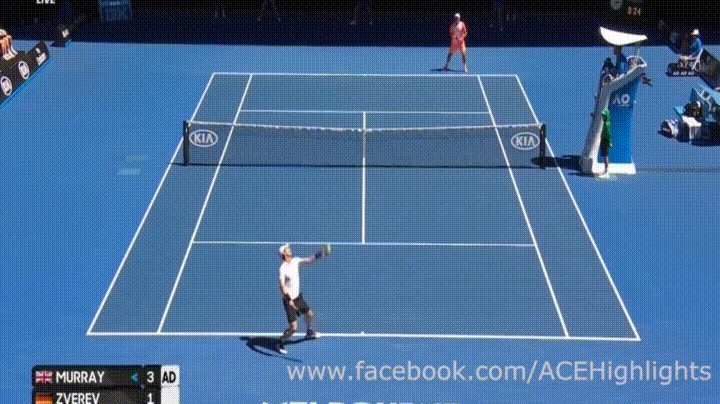 But even when he stayed back, he was proactive with the shot, ensuring that at worst he was starting the rally neutral if not ahead. This fit in tightly with his overall strategy of looking to move forward, and denying Murray rhythm.
4. Stayed The Course
Over the course of the match, Mischa Zverev came into the net an astounding 118 times. In a match that featured only 282 points, that means he was at the net on almost half of the points of the match (42% to be more precise). Now here's where things get interesting. Of those 118 net approaches, Zverev lost the point 53 times (45% of the time). 53 times Zverev came forward, lost the point, and then kept coming forward anyway. As said at the beginning of the article, this is not a man who has a crisis of identity when it comes to who he is as a player. Mischa knew exactly what his strengths were, and he stuck with them from start to finish.
Here is a point from Zverev's first service game of the match:
And here is a point from his final service game of the match.
He came out and attacked Murray from start to finish in a relentless display of not just attacking tennis, but of conviction.
Summary
As so often happens in tennis, this was a match decided by one player dictating the terms of play. Whether it is a player like Ferrer, making each point longer than it should be, or a Nadal making you hit backhands above the shoulder over and over again, the ability to control the way in which points play out is a critical factor in deciding match outcomes. Zverev deserves every credit for the way he played, and also for his dignity in victory. Of course the question on everyone's lips is: what next for Zverev?
His next match is against a surging Roger Federer who has just beaten Berdych and Nishikori in back-to-back wins. The shorter points in Zverev's style will certainly be a boon for Federer in terms of his energy levels. But perhaps more importantly, he has always thrived against serve and volley players. His ability to blunt opponent's serves, and his creativity on the ball means that unless Zverev has a marque day his run will end at Federer's hands. Federer's serve has been so precise this tournament that Zverev will struggle to get looks and obtain the critical break.
And in the long run? While he has the chops to be a top 30 player, certainly don't expect him to to light the world on fire. His younger brother Alexander has that covered.